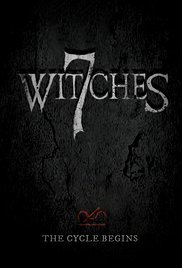 Opis:

Pošto se dan njihovog venčanja približava, Kejt i Kodi i bi trebalo da se raduju. Njihove porodice su tamo, iznajmili su ostrvo za taj veliki dan, ali ono što ne znaju je da njihovo venčanje pada na dan ostvarenja stogodišnjeg prokletstva. Umesto da slave, oni će se boriti za svoje živote protiv veštica koje su ustale da se osvete...
Slično za pogledati
Komentari (2)
Carefree and desperate to avoid any responsibility, Jessica, a college student, visits a yard sale to buy a gift for her best friend. However, the music box she brings home is haunted by a vicious...

Sadistička priča o usamljenom, mentalno hendikepiranom dečaku koji se sprijatelji sa svojim odrazom u antičkom ogledalu. Ovo demonsko biće naređuje mu da krene u ubilački pohod i ubije ljude koje...

It seems that in recent years Angel sightings and experiences are everywhere. Perhaps this is because the world is more and more complicated and people are feeling exhausted from keeping up when time...