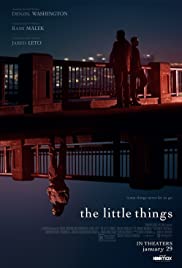 Opis:
Zamjenik šerifa okruga Kern, Joe Deacon (Washington) poslan je u Los Angeles zbog nečega što je trebalo biti brzi zadatak prikupljanja dokaza. Umjesto toga, upliće se u potragu za ubojicom koji terorizira grad. Vodeći potragu, voditelj policijskog odjela u L.A. - u, Jim Baxter, je impresioniran Dekeovim instinktima policajaca pa ga angažira kao pomoć u istrazi.
No dok prate ubojicu, Baxter otkriva uznemirujuće tajne koje bi mogle ugroziti puno više od njegovog slučaja.
Slično za pogledati
Komentari (1)
Two thieving teenage brothers, stealing money to help their sick mom, match wits with a troubled security guard stuck at the bottom of a forgotten well.

A look at the formative years of New Jersey gangster, Tony Soprano.