Film
Never Sleep Again: The Elm Street Legacy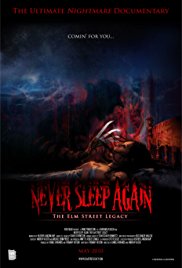 Opis:
Explore the origins of "dream demon" Freddy Krueger in this award-winning documentary that takes you behind the scenes of the most frightening and imaginative horror franchise in motion picture history!
Slično za pogledati
Komentari
Inspired by the critically-acclaimed book, Crystal Lake Memories: The Complete History of Friday the 13th takes viewers behind the mask on an epic journey into the making of the landmark horror...

The definitive three-and-a-half hour documentary about the troubled creation and enduring legacy of the science fiction classic Istrebljivač (1982), culled from 80 interviews and hours of...

A documentary exploring 30 years of the "Friday The 13th" film series featuring all new interviews with cast and crew from all 12 films and various horror fans and filmmakers.